Whenever we talked about our future home, we always knew we wanted to find a home with a story. We never expected we'd be lucky enough to find something with as much of a story as Union Joint Graded School No. 9.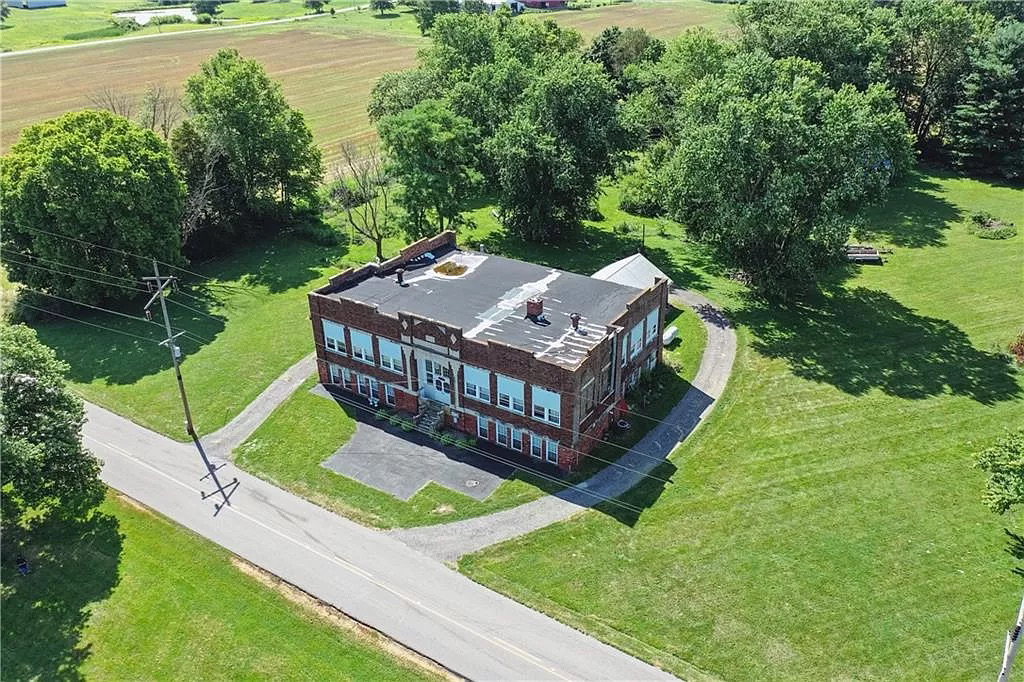 Union Joint was built in the early 1900s to serve children from the farthest corners of two neighboring townships, Nineveh and Franklin. The thinking was that a joint graded school would give kids a better education than the system of one-room schoolhouses peppered across the county, while still keeping them closer to home. After a few decades, the school became too expensive to maintain and it was shuttered. The students who attended were sent to Hopewell, Trafalgar, and Nineveh.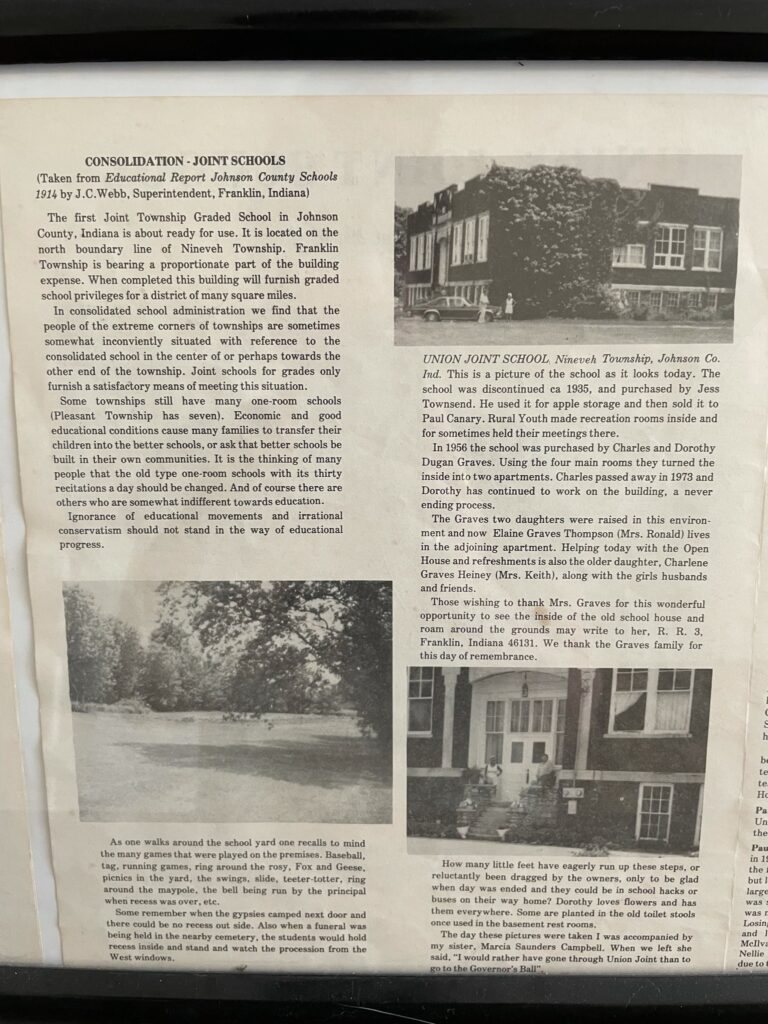 After it closed, one farmer bought it to use for apple storage. Rural Youth conducted meetings inside. At one time, it also housed a turkey coop. Since 1956 it's been the home for generations of a Franklin family, including a former student. The previous owners converted the school into living spaces and that's what it looks like today.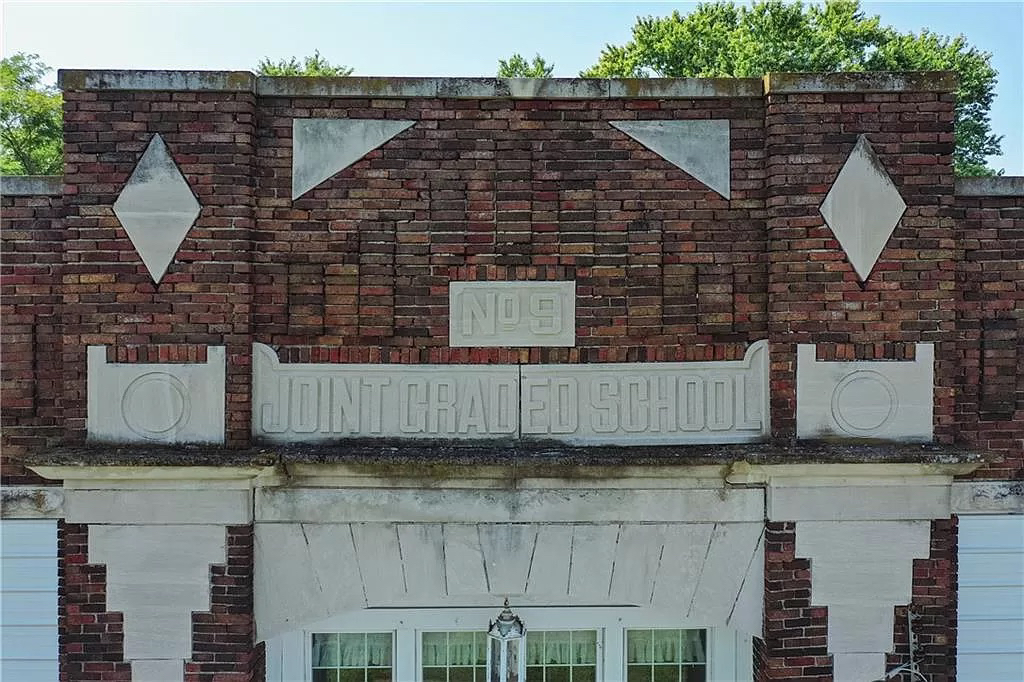 One incredible thing the former owner gave us was the abstract, with ownership records dating back to 1821, when the deed for the land passed from the federal government to a private citizen. The land, like the rest of Indiana, had a much longer history of settlement and use by the Native Americans.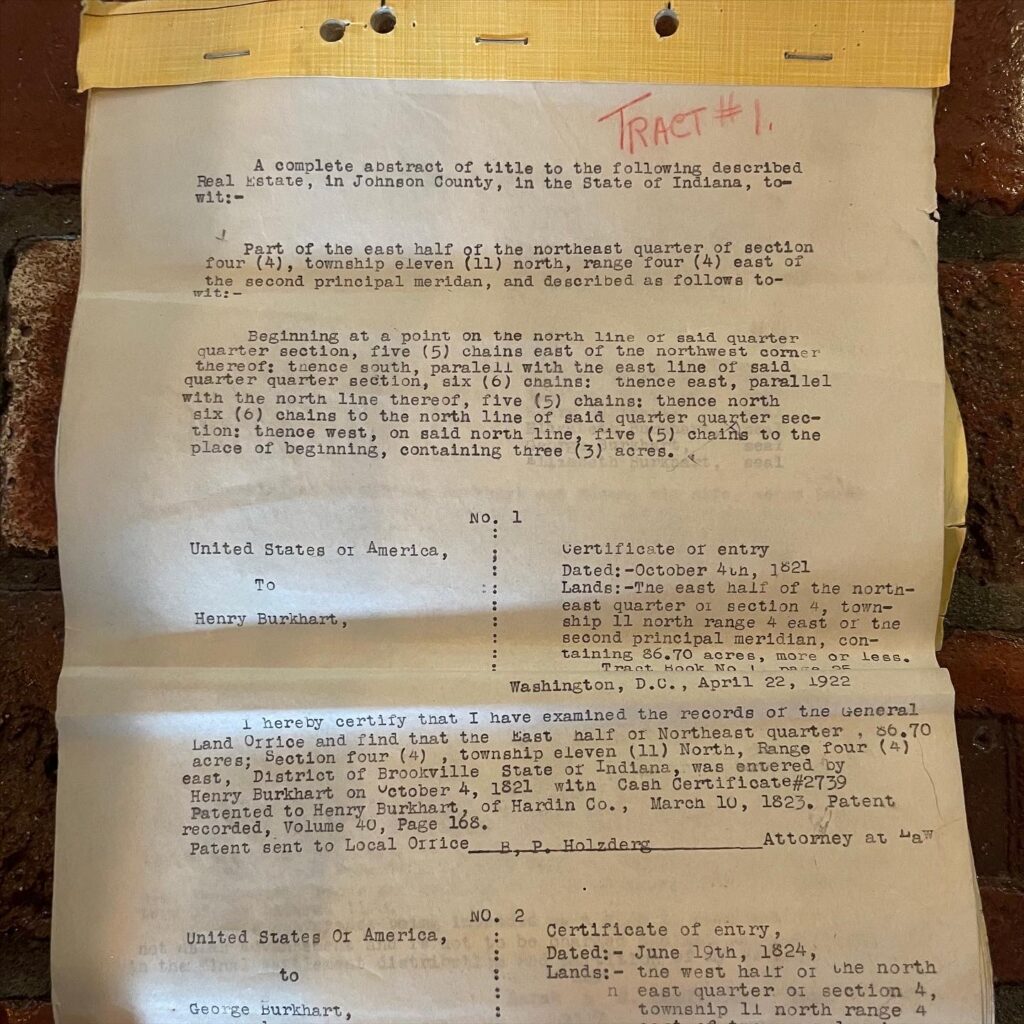 Another document that was left to us was a program for a 1980s reunion of Union joint students. I loved looking through these photos looking for familiar last names!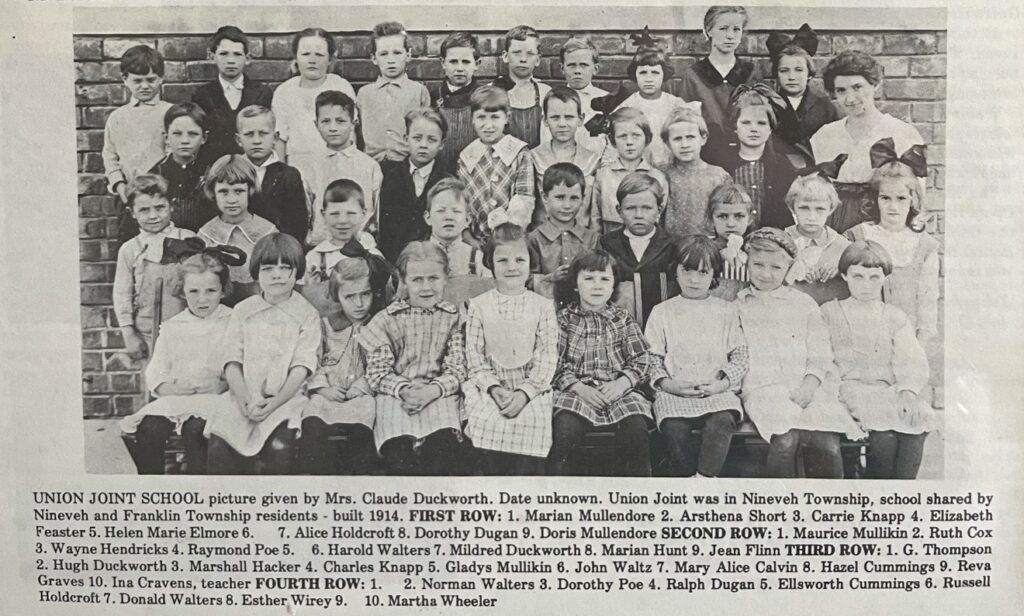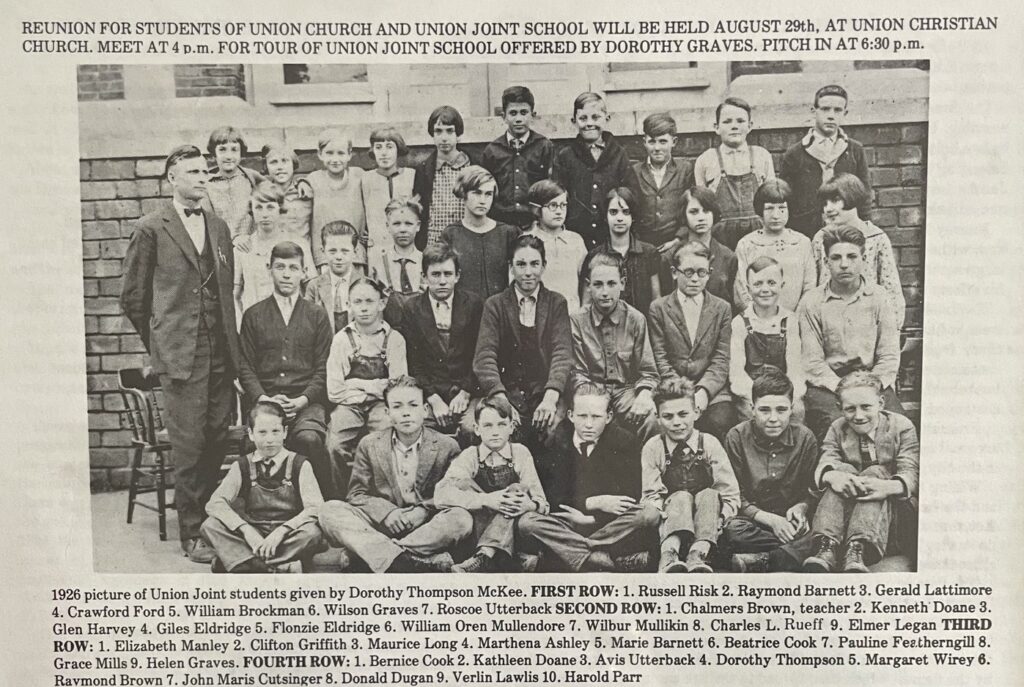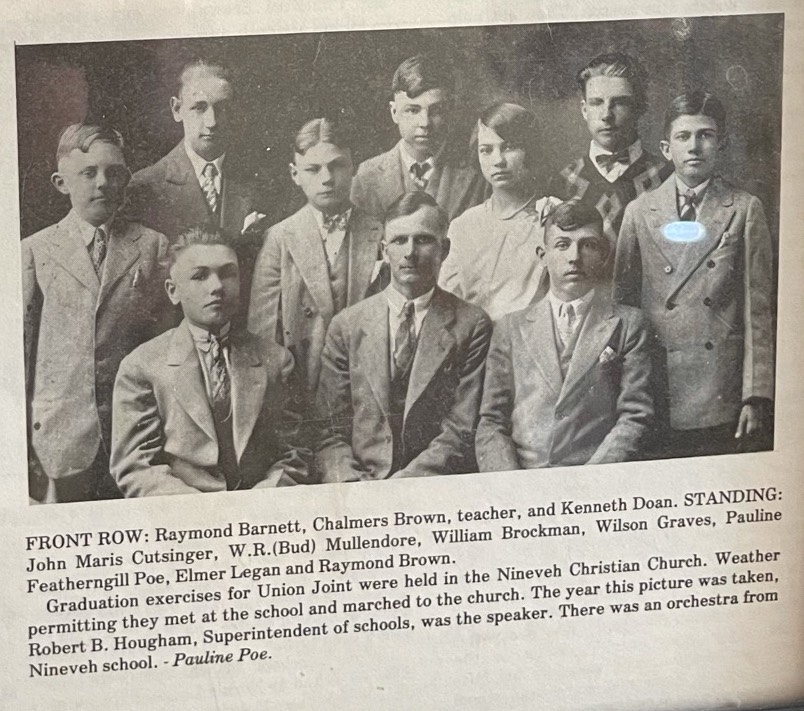 Some of the former students submitted memories to the reunion program. I've pulled a few of my favorites below:
"I started to the school in fall of 1911 at the old Union Church with a class of two. All 8 grades were in one room (later the furnace room). We rode to school in a carriage. In 1913 we started in the Joint school with several teachers. Ruth Terrill Wyrick, Bessie Crosby and others. We were hauled to school at first by Paul and Maple Callon, then Forest and Georgia Pritchard. Sometimes in muddy weather they used 4 horses because the Cox road got very muddy."

Walter Poe
"I was in the fifth grade when the school closed and I was transferred to Nineveh grade school for my sixth year. But at Union Joint I remember all the games we played, and how Mrs. Nellie Roepke went to the huckster and bought candy bars. James Eby took my pencil and when he gave it back to me it didn't have an eraser."

Marcia Saunders Campbell
"I started to school in 1919 and Leila McIlvain was my teacher in the first and second grades. She was a strict but loving teacher and we were all aware of a large paddle in the top of the closet, but it was seldom used."

Pauline Featherngill Poe
"I was on the Advisory Board when Union Joint was closed. The school had begun to deteriorate, cost for improvements would have been a large sum of money. So we signed the papers stating the school would be closed and all the students sent to Hopewell, Trafalgar, and Nineveh."

Cecil Parkhurst
"Every time the name of Union Joint is mentioned, all who hear the name remember back to the days when they attended school there. How many children took part in the Christmas plays? How our plates were piled high with food on the last day of school pitch-in dinner? Remember the PTA meetings and refreshments afterwards? How we showed off when our parents would come to visit? We've come a long way since the one room log cabin school, but the warmth and love, the companionship of kindred souls, lingers till the end of our days."

Rachel Saunders Henry
It was very different at the new school because we had a classroom teacher, music teacher, art teacher and a manual training teacher. Then in the fall of 1917 I started at Hopewell and graduated from there."

Walter Poe
Another thing we found in one of the documents was this sweet poem.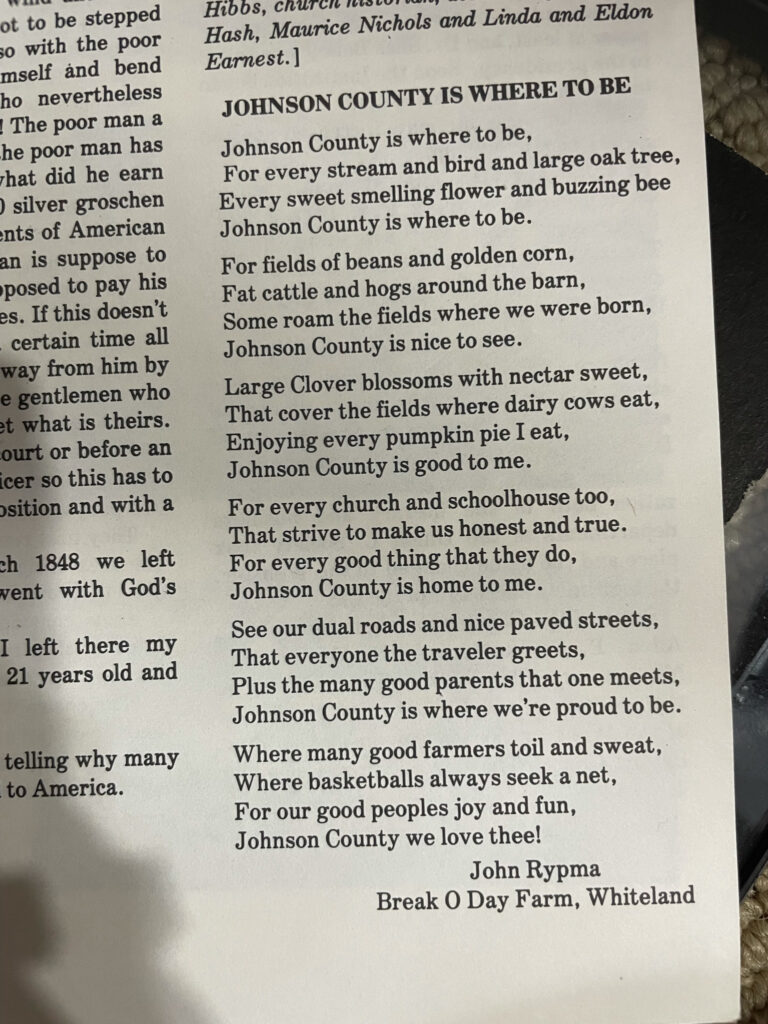 We're excited to learn as much as we can about the history of this school and we'll continue updating this article as we learn more!